Wed Nov 29/2017   7:00pm  Vegan Month Dinner & Cookbook Exchange
Affinity Vegetarian Garden
208 Edmonton St.
Celebrate World Vegan Month by joining us for a wonderful all-vegan dinner prepared by our friends at Affinity!  And as part of our dinner, we'll be hosting a vegan cookbook exchange.
All-Vegan Menu:
* Vietnamese Spring Roll
* Corn Soup
* Lo Han Chow Mein
* Vegetarian Shrimp
* Sweet & Sour Tofu in Pineapple Boat
* Sugar Peas w/ Mushrooms
* Fruits
* Rice
* Tea
Tickets: $16 WVA Members, $18 non-members, includes tax & tip if purchased before Nov 25. Afterwards tickets are $18 and $20 resp. Tickets must be purchased before Nov 27 at Affinity.
Vegan Cookbook Exchan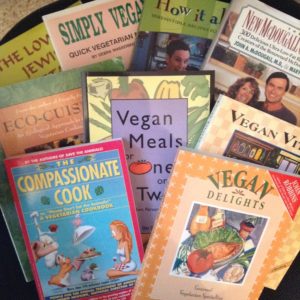 ge: Bring any gently-used all-vegan cookbooks that you'd like to trade for another cookbook. The exchange will be organized as a random draw, each cookbook contributed will receive a ticket plus additional tickets for hardcover and value over $30.
You'll be able to check out the books during dinner and we'll start the exchange during dessert. Have fun!